Neon typography art is a go-to for all new, Insta-centric bars and restaurants, and it's easy to see why.
This is a statement-making time, from Andy Leek's @notestostrangers on Instagram providing uplifting truths and guidance to the public, to a multitude of national and global campaigns urging women to revolt against the hateful attitudes to, and treatment of, women in the entertainment industry/on the Tube/everywhere, ever.
What better way to reflect your thoughts, outlook and political objectives than with the bright, glorious glow of neon typography art? As artist and neon expert Lauren Baker will tell you, "your home should be a physical representation of your mind".
Named after the famously rebellious, hedonistic, 19th-century French Empress Josephine de Beauharnais, Tonight Josephine is the venue of choice for a woke night out. The bar was designed by the team at Finch Interiors, which has imbued the space with an atmosphere of fiercely feminine, noughties-fuelled sentimentality – complete with a life-size Paris Hilton poster. Finch Interiors cites Josephine herself as the design inspiration, a "trail-blazing feminist… The original IT Girl".
The decor embodies millennials' reclamation of the colour pink, in all its bubble-gum glory; a throwback to a "wrapped in plastic, it's fantastic" childhood of pencil cases, diaries and dolls' hair brushes of the same hue. Perhaps the most photographed corner of the venue is the neon signage, radical and unapologetic, which reads: "Well behaved women don't make history". The scale and graphology of the piece emits a purposeful, political phosphorescence, reminding and reassuring all those that enter: Women will be, do, dance and drink as we please.
Lauren Baker is a multidisciplinary artist, creating works of art for the home, for public display and for charity, but Baker's light art comprises some of her most visually arresting and ethereal works. Her latest exhibition on Floral Street showcases the diaphanous yet vivid qualities of neon, and the way words can affect our moods. Sprawling, chimerical, neon script appears to float in void-like blackness, like photographs with sparklers on fireworks night.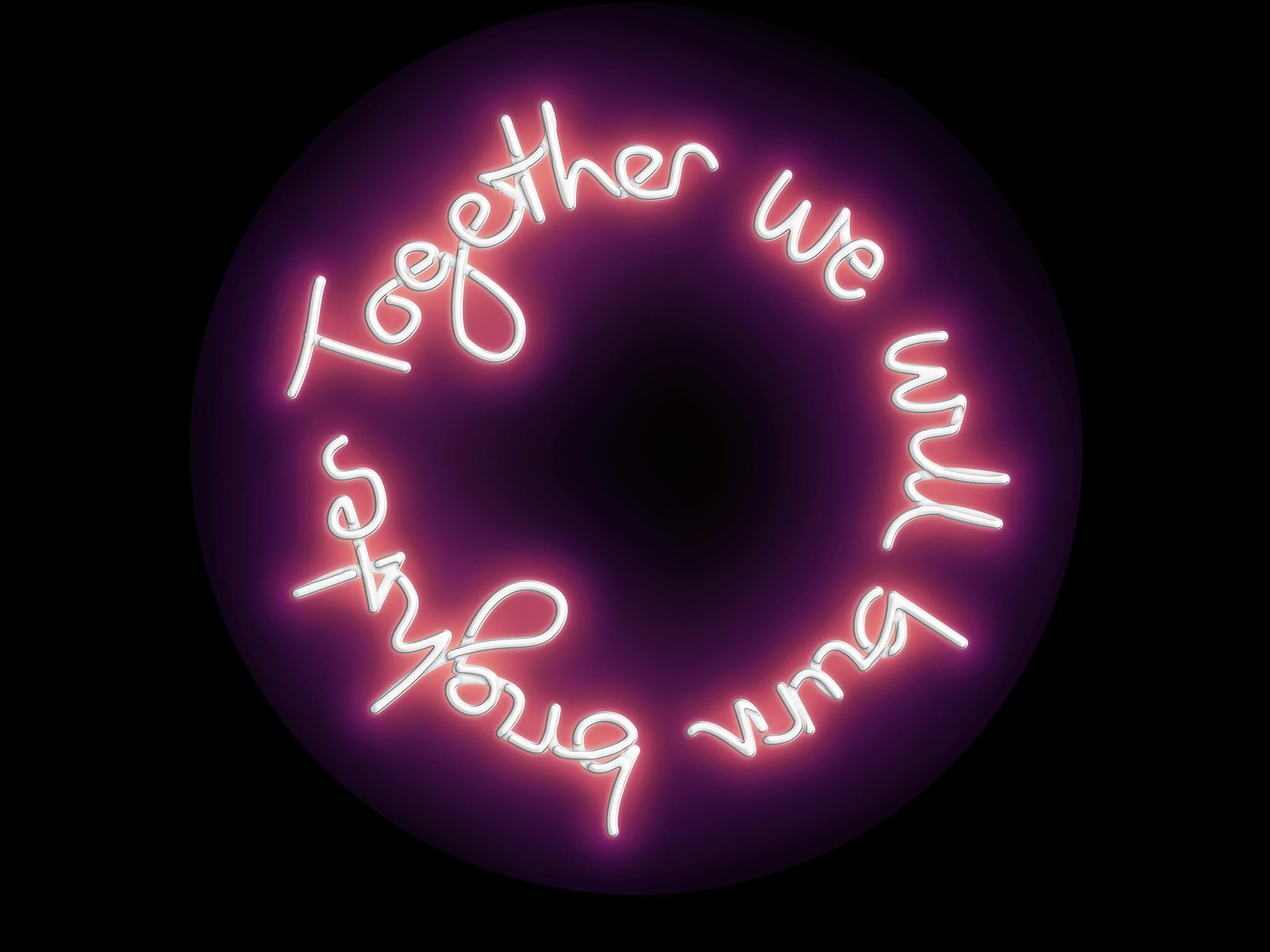 A personal favourite piece is Baker's "Together We Will Burn Brighter." The phrase takes the form of a circle, signifying the sense of unity implied in the wording – it's not complex, but it's powerful. Of the work, Baker says: "It's all about human connection. It's about collaborating to do good in the world and feeling close to all humans." A poignant message at this time, politically and socially, Baker suggests that burning brighter together involves "sharing our lives freely and without prejudice, lighting each other up".
The dreamlike text is axiomatic, suspended in the black like an absolute truth, separated from the fallibility of human morality, disconnected from the physical, subjective world. Bravo, Lauren Baker.
A trip to the Andrew Martin showroom on Walton Street will leave you feeling inspired, surprisingly well-travelled and intellectually stimulated. Trinkets gathered from far-flung islands and fabrics and wallpapers inspired by markets, mountains and myths constitute just a fraction of the wares available to peruse.
A new arm of the Andrew Martin offering is a series of collections of artworks, including dioramas, striking black-and-white prints, and multimedia pieces, often politically weighted, incorporating neon typography to highlight their integral social commentary.
The Neon Artworks by Andrew Martin are tongue-in-cheek, and their allusions to pop culture are playful, subversive and thought-provoking. In Stop Wars, the figure of a modern man is crowned with a Stormtrooper helmet, set against a background of a school locker, collaged with prints, stickers and graffiti.
The words "stop wars" in flaming-red neon title the piece, in the familiar Star Wars font, bringing into conversation an impassioned political demand and the pervasive power of mass media. The piece echoes the calls of the pacifistic youth, who embrace both their obligation to protest and their freedom to consume mainstream entertainment.
We are all guilty of leaving walls undecorated. Whether your kitchen needs a retro twist or your bedroom a punchy one-liner scrawled across the walls in glowing script, source some neon typography art of your own. Works by Lauren Baker and Andrew Martin are available for purchase online, while websites such as 1stDibs and treasure troves including God's Own Junkyard are great places for sourcing unique, statement-making art for your home.